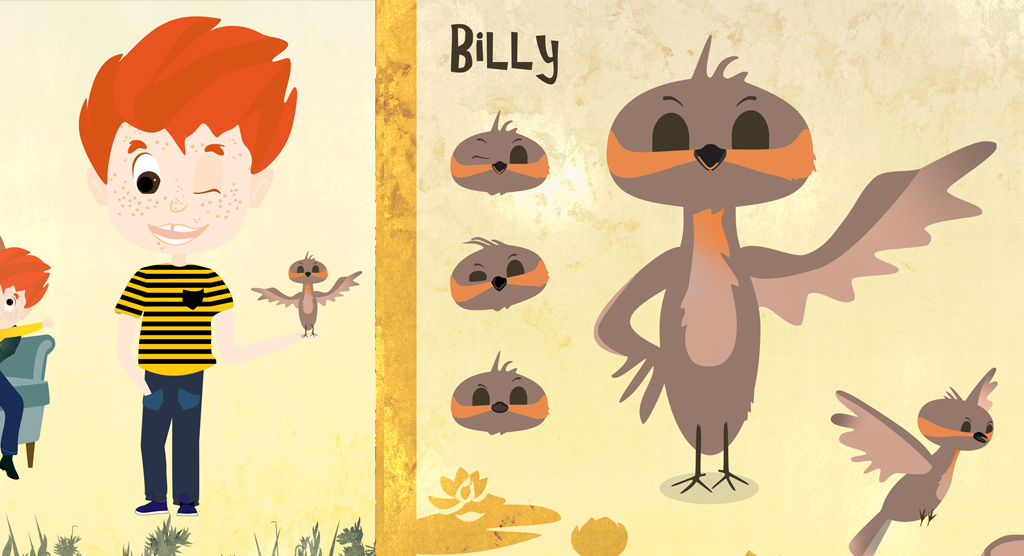 Billy & Dizzle
'Billy n' Dizzle' is a unique series unlike anything in the preschool space at the moment.
Whilst other preschool shows for 3-6-year-olds can power though stories at a fast, frenetic &
sometimes wacky style, Billy n' Dizzle is a calmer, more thoughtful show. We have taken an
uncommon storytelling device (inspired by the series 'This Is Us'), by weaving back and forth between the world of a young boy, Dizzle, and the animal world of cheeky robin Billybird & his friends.
6 Year-old Dizzle is on the Autistic Spectrum with higher functioning Autism. Due to his different way
of seeing the world, he faces challenges but encounters wonderful advantages, too. Dizzle finds some social situations difficult but he has his best friend, Aisha, to help. On the other hand, he has a wonderful imagination and way of solving problems.  When he focuses on a passion such as music or construction he can achieve awesome things! Growing up can be extra challenging for Dizzle, so
every day, after school, Dizzle goes to his Nan's house & plays with his best friend Billybird!
The hook of the show is the fact that Dizzle has a special bond with Billybird.  The lives of Billy, his siblings Betty and Baby, and the animal friends they encounter in Nan's back garden seem to parallel, reflect & interweave beautifully with their lives in a way that can inspire young and old viewers about the wonderful adventures of growing up. "Coming of age" & growing up is very much at the heart of
the show. Music will play a strong part of the narrative.  A very authentic voice will come through the storytelling and acoustic soundtrack to immerse viewers in a world that is visually rich, detailed and in many ways deeper than other shows on screen.
We want to delight viewers with the honesty and beauty of this series.